A manufacturer and distributor of formwork solutions
MARINAL SYSTEM is a manufacturer and distributor of formwork solutions used to build traditional pools using one-piece reinforced lined concrete.
MARINAL SYSTEM has been lauded by the FPP (Federation of Pool Professionals) for this exclusive and patented concrete pool construction process.
MARINAL has even won a series of awards at the World Pool Show in Lyon.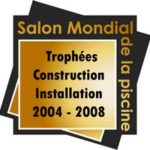 Available in France and around the world
Thanks to MARINAL SYSTEM, all types of structure are possible, even in difficult terrain, seismic zones or under extreme conditions.
What's more, the formwork folds up, making it easy to store, transport and supply. This is why MARINAL SYSTEM is active in mainland France, overseas territories (West Indies, La Réunion), and internationally (Canada, Dubai, Switzerland, Costa Rica, Belgium, Portugal and more).
Find your nearest approved pool installer by contacting us today.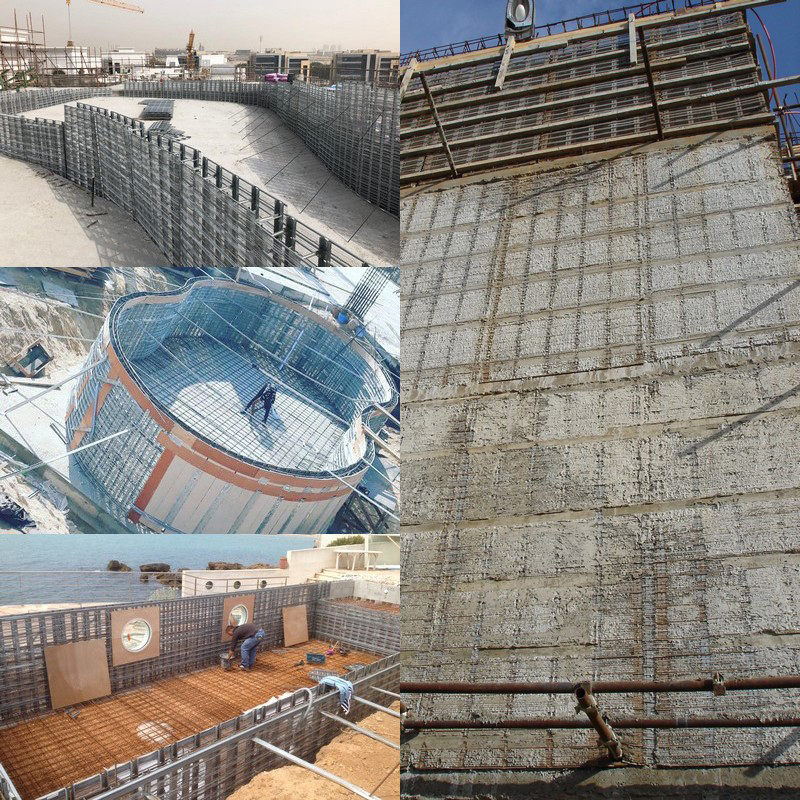 The discovery of cement in 1818 by Louis Vicat, a French engineer at France's national civil engineering school, and the use of steel reinforcements led to the birth of reinforced concrete.
Today, concrete is the most widely used construction material in the world.
The technique used by MARINAL SYSTEM is the most traditional of them all: shuttered reinforced concrete.
Shuttered reinforced concrete is a technique used in civil engineering to build bridges, hydraulic dams, apartment buildings and so much more. MARINAL SYSTEM has adapted this principle for use in pool construction, simplifying it with the creation of man-portable galvanised steel panels which remain integrated into the structure and help reinforce the concrete by enhancing its mechanical strength (an integrated structural formwork system).
The concrete used is standard concrete, trucked directly from concrete factories, offering a standardised and perfectly consistent solution (subject to European standards).
Excess water is removed gradually throughout the pouring process, and the fill level in the panels is controlled visually by the installer.
By pouring the base and the walls in a single operation, you are guaranteed a one-piece structure that will not crack and will not deform.
The MARINAL SYSTEM technique is perfectly suited for challenging terrain, including anti-seismic applications.
Every approved MARINAL SYSTEM professional is committed to following the construction rules and regulations set down by the ITBTP, DTU, DTP, and the BAEL standards, which currently constitute good industry practice.
The ITBTP is the Technical Institute for Construction and Public Works, and this body rules on the specifications for public construction standards which, by extension, cover reinforced concrete swimming pools.
The DTU (Unified Technical Document) is a set of technical specifications established by the General Commission for Building Standardisation, which sets standards for civil construction regulations.
The DTP (Pool Technical Directives) are the specific documents which govern pool installation.
The BAEL standard (limit-state reinforced concrete) governs the use of concrete in all types of construction. Originally, the BAEL standard was established for the regulation of bridge and water tower construction. It was then extended to cover reinforced concrete swimming pools, in order to regulate pool resistance to water pressure.
Each MARINAL SYSTEM installer is covered by the appropriate insurance and a ten-year guarantee.
MARINAL has earned a solid reputation as a reliable manufacturer, offering high-quality products which are recognised and respected by pool professionals.
In recognition for what we do, MARINAL SYSTEM has twice been awarded the trophy for Construction and Installation at the World Pool Show in Lyon.
All of our approved MARINAL SYSTEM partners are fully trained and have all signed up to the same quality strategy.